Click play to reminisce (may take a short while to load)


I'm well and truly an 80's girl at heart. I love the 80's as I spent most of my childhood in them - from the ages 6 to 16 in fact. I know some people hate the 80's so much that they shudder at the thought of mullets, curly perms and banana clips. But for me, the 80's was the best decade, the decade of fun, the decade of high fashion and neon clothing, the decade of new romantic music and the decade when my Dad made a go-kart for me that was the fastest thing on earth!
I've already talked about my love of
80's films
on my blog and my obsession with the mighty
Depeche Mode
which started in the 80's but there is so much more that defines the 80's for me. So much more that even after I've posted this blog, I know I'll think of something else.
80's music played a big part in my life and even now, throw on a bit of 80's 'cheese' and you can never fail to get me up on the dance floor. In fact, I used to frequent my
local nightclub
during the nineties and noughties most weekends...would I be on the ground floor listening to the indie tunes? No. Would I be found on the first floor raving it up to some club classics? No way! No, I'd usually be found in some drunken state getting my groove on to Tiffany or some other cheese-fest musical memory on the 80's floor. Usually after a few too many TVR's!
Tiffany and cheese aside, the thing I love the 80's for most is the new romantic music it brought with it. Bands like
Depeche Mode
, The Smiths, New Order, The Cure, Spandau Ballet, Duran Duran and The Human League were everywhere and I couldn't get enough of them.
The 80's saw the birth of MTV to our screens, I remember a friend of mine who's parents always got the very latest technology. I'd spend so much time at her house for sleep-overs where we'd watch MTV all night and dance around the living room in our pyjamas. To sit and watch music videos in your living room was just amazing. MTV also brought with it a change in fashion. Most of us wore ski-pants with over-sized shirts or bat-wing jumpers and big thick belts. Our clothes were bright and in your face. We didn't just accessorize we excessorized! We went over-board on big and bright plastic earrings, necklaces and bracelets. The American influence saw us going big (quite literally) on huge shoulder pads so we looked just like Crystal Carrington. I think the 80's is such a mix of fashion from one extreme to another...and although I look back at pictures of myself and shudder, I can't help but smile and love the 80's for all it's nuttiness!
I have such fond memories of racing to the local news agents on a Thursday to pick up my weekly copy of Smash Hits Magazine. I would study the magazine for hours, pouring over the latest bands and heart throbs. Then, when I was done, I'd rip out the lyrics pages so I could get ready to sing my heart out (badly) whilst listening to the Radio 1 chart countdown every Sunday. On that Sunday I would get my trusty tape cassette deck out, insert my memorex tape and have my fingers poised over the record and play buttons ready to record the songs I loved. I remember just how pissed off I'd feel if I mis-timed it and ended up with Bruno Brookes talking on my tape! I'd be frantically rewinding and re-editing, trying to cut all the talking out and then writing the songs on the label insert.
I'd spend lots of time with my best friend (and she's still my best friend now), looking through Smash Hits and singing along to our newly compiled tapes of chart hits. We'd sing into hairbrushes. We'd even knock on her brothers bedroom door and sing to him or plead with him to do his impression of Vivian from The Young Ones.
That's another love of mine from the 80's - The Young Ones. Maybe it's where my love of
toilet humour
stems from? Maybe it's the fact that my Mum didn't really like my older Sister and I watching it but we used to twist her arm - the great thing about your Dad working nights!
To this day, my favourite episode of The Young Ones has to be '
Bambi
', the one where they go on University Challenge. Music also played a huge part in The Young Ones...where else could you get to rock out to tunes whilst chuckling away over jokes about bogies, trumps and crap. Even now I can't listen to Ace Of Spades by Mot
ö
rhead without giggling like a silly schoolgirl.
The other night my husband was flicking through the TV channels on Sky (typical man) and I suddenly stopped him. "Quick, quick, go back a couple of channels, I used to watch that programme in the 80's" I cried. What was it? Some cool kid or teen programme? No. I was referring to 'Thirtysomething'. I used to watch and love this programme in the late 80's. When I look back, I wonder if the 80's made us all old before our time or is this something that all kids do? Watch a programme about people so much older than them and so different. Why would someone in their early teens love a programme about baby booming yuppies in their 30's? But it made me stop and think about all the programmes I genuinely loved in these years - Moonlighting, The Love Boat, Dynasty, The A-Team, CHiPs, Beauty and the Beast, The Cosby Show, Diff'rent Strokes and The Fall Guy to name but a few. Perhaps I was old before my time? Perhaps we all were in the 80's or perhaps it happens within every generation? Perhaps children born in the late 80's used to sit glued to 'Cold Feet'? Who knows?
This blog post could quite easily go on and on, talking about the kids programmes I loved of the 80's like Metal Mickey, The Adventure Game (remember 'Grandad' the talking plant?), Fraggle Rock and The Moomins. I could talk about the toys I loved (and loathed) like Cabbage Patch Dolls, Pound Puppies, Glo Worms, Lolo Balls, My Little Pony, Popples and Cindy Dolls. But I won't...I just wanted to spark some memories.
For me, the 80's have to be the most influential decade of my life and I'll never stop loving them. Do you love or hate the 80's and what are your memories?
Part of my A to Z posts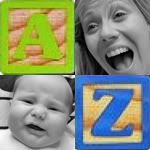 Click the button for info