When most people are asked what their biggest fear is you often hear them say things like spiders or flying. Not me.
Sure, I don't really like spiders but the thing I'm afraid of most is cancer.
I'd heard of cancer when I was younger and didn't really think much of it. It was something I read about in the news from time to time. something that didn't register with me much. It wasn't until my early 20's when it really started to have an impact on my life.
My friend rang me "R**'s Mum has been taken into hospital really poorly, we are waiting for confirmation on tests but they think it could be bowel cancer". I was in shock. Not long before this my friend and I had been out with her mother-in-law in the local pub watching a tacky 'Chippendales' type tribute act and getting stupidly drunk and falling about laughing together. 3 weeks after this phone call she died. She was 50. She was young at heart and fun-loving woman with a heart of gold.
As I stood in the crematorium singing "You'll Never Walk Alone" (Liverpool FC was her family passion) I couldn't believe what had happened. How had something like this taken her so quickly?
It was not long after that first moment that cancer impacted on my life that I heard more about it through friends who had other friends or family members who had cancer. Then the worst happened....my parents turned up on my doorstep one the evening. I knew straight away something was wrong. "I've been diagnosed with breast cancer" Mum said, the words ringing in my ears. I held it together as best I could until they left then I broke down. My husband said to me "She'll be fine, it's only breast cancer - it's not like it's the worst kind". He didn't even hug me, he just shrugged it off and walked away. I could have punched him right there. I grabbed my coat and drove to my friends house who gave me the hugs and words of support I needed. Needless to say, that husband is now my ex-husband.
Mum had to have a mastectomy and it was hard-going but she got through it. She was told that if the cancer hadn't returned within 5 years she would be given the all clear. 4 and half years later it was back and she had to have another mastectomy. That was 4 years ago now. She still goes for her regular checks and I just hope it's completely gone.
In 2007, just before Matt (my lovely husband I'm married to now) were due to wed my Nan became really poorly. She was unable to travel up from Luton to the ceremony. I knew it was something serious. Just after the wedding we were told she had pancreatic cancer. It hit us all hard. My Nan had always been so full of life and active. Even though I was doing a 126 mile commute each day I still made the 400 mile round trip journey to Luton and back to visit my Nan every weekend for the 2 months she was ill. Watching this disease take hold of her and waste her away was heart-breaking. I'll never forget my sister and I having to help her onto the commode. I'll never forget her not knowing who we were toward the end apart from the odd smile. I so wish she'd been around to witness the birth of my baby girl. My Nan passed away in October 2007.
Then a couple of years ago one of my closest friends Mum was diagnosed with cancer. I was a massive support for her through a really dark time in her life. Her Mum died in October 2008. I remember being pregnant and emotional at the funeral as my heart was aching for my friend and the memory of my Nan was all too raw.
Exactly a year later another one of my closest friends Mums died from cancer. Another year, another funeral to go to. Another cancer victim.
It was all too much...3 years, 3 Octobers, 3 cancer victims, 3 deaths, 3 funerals.
Out of my 6 closest friends in my life, 3 of them have lost their mums to cancer.
Now I have a male friend who is currently battling prostate cancer at the age of 50 and a friend who has a cousin battling ovarian cancer at the age of 42. Last week I read in the news that 1 in 8 women will develop breast cancer - shocking stats.
Cancer is evil, cancer is disgusting. It rips through families and causes so much heartache. It's the one thing in life I fear the most.
I give a small amount of money to Cancer Research and to MacMillan each month. I've been donating since cancer first hit my life. I'm not a religious person but I do pray that one day they find a cure.
Sorry this is a deep and dark post but, if you've got this far, thank you for reading.
Part of my A to Z posts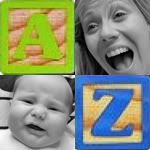 Click the button for info
I promise my next post will be a happy one!