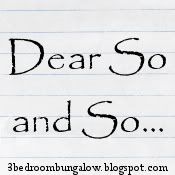 When I stumbled across this on Kat's blog -
3 bedroom bungalow
- the other day I thought I'd start to take part in her Dear So and So linky. It's quite therapeutic...
************
Dear Washing Basket
How come, even when I've emptied you out completely, as soon as I've turned my back you're full again.
Yours Washer Woman
************
Dear New Neighbours
If you drive your car over our front lawn one more time when getting out of your driveway I'll take some scissors to your pot plants. Learn to drive!
Yours
Disgruntled Neighbours
************
Dear Cancer
Why don't you just f*** off and leave my lovely friends and family alone.
Yours
Hurting Lots
************
Dear Scientists
Please find a cure for cancer quickly.
Yours
Hurting Lots
************
Dear Hannah
My lovely friend, thank you for the wonderful Fish Finger Butty and Cider night you hosted at your house last night. Sorry I wasn't on top form.
Love Heather xxxx
************
Dear Random Illness
I'd rather be not ill or properly ill than feel like I do at the moment. Feeling completely exhausted all the time is not good. Kindly vacate my body as you put a downer on my night last night.
Yours Ill Person
************
Dear Magners Cider
I'm sorry I didn't finish you all last night but blame Random Illness.
Yours Lightweight
************
Dear Twitter
Thanks for being there with new friends and old to cheer me up when I'm feeling blue.
Yours
@SAHMlovingit
************
Dear Blog Readers
I love you all, now go write some letters and link up!
Love Me x