This is Betty (aka Dogface).
She used to be my baby before my daughter came along. She's 15 now and I've had her since she was 2. She had a horrible mixed-up life before I came to own her. She was a funny old dog who had lots of issues – mainly aggression towards other dogs but sometimes towards people when she didn't want to be stroked or fussed. These issues settled down but never entirely went away.
I really thought we'd have to give her away to a family member when my daughter was born, especially as when I was pregnant and uncovered my stomach she used to growl it. But a funny thing happened…the more and more I watched her actions when I was pregnant, the more and more I noticed how she would sit and guard me when visitors were at the house. It was like she was protecting the precious cargo I was carrying and didn't like me uncovering it.
When my daughter was born we made all the right moves to introduce them. My husband took a baby sleep suit my daughter wore the first day she was born back to the house with him and let her sniff it. Then, when we came home the next day, he took Betty out for a walk whilst I carried my daughter into the house and took her on a tour of each room. After 20 minutes Betty was brought into the house which was clearly filled with that 'new baby' smell. Everything was fine. I breathed a huge sigh of relief.
My daughter will be 2 this March and Betty has never shown any aggression toward her. Infact, Betty goes out of her way to avoid my daughter (wise move, especially when she's got her crazy push-along wooden duck!). I have noticed that Betty has aged so much in the last year. She's stopped playing with toys completely and sleeps most of the time. The other week she decided to relieve herself in the kitchen – my husband wasn't impressed as he was seconds away from letting her out. He ranted that he couldn't believe she had done it blah blah blah. I explained that she was the equivalent of about human 100 years old and that it was obviously because she couldn't hold it in after she'd woken up suddenly. Poor Betty.
It's got me thinking about how much I love Betty and how much I'll miss her when she's gone. I know people without pets may not understand how much joy and love a pet like this can bring to you but then if you're that person you are probably not reading this now. If you are, thank you. She's given me so much joy over the past 13 years and despite all her weird habits (like not being able to put the windscreen wipers on in the car if she was with me because she'd try and attack them through the glass) she has a heart of gold. She just didn't have the best start in life.
It may be pathetic and soppy but this is my blog dedication to her as I don't think she's got long left :'(
Part of my A to Z posts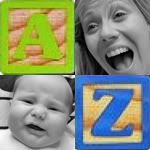 Click the button for info