Every blogger has
that
moment.
The moment when they want to say something but the words just don't seem to come easily.
This isn't one of those posts.
Although this is a hard thing to blog about, the words flow easy because of the subject.
Kerry.
AKA
Multiple Mummy
.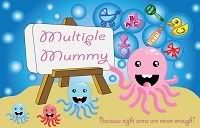 Kerry has been a big part of my blogging life right from the start. She started blogging just a few weeks after I did so we instantly hit it off. We entered the world of blogging together and never looked back. Her blog became an huge success because of her being so lovely, genuine and down to earth. We would spend ages chatting on Twitter and striking up an online friendship. Six months later we finally got to meet at
Cybermummy 2011
.
It's always the same when you finally meet someone you've 'known' online. You wonder if they will be the same lovely person in the flesh as they are online. I've blogged before about how the online world has brought me some amazing friendships - it even brought me a gorgeous husband!
Well, Kerry is one of the many wonderful bloggers who totally live up to their online persona.
She's beautiful, funny, genuine, kind and lovely.
However, something happened this Summer that made me, once again, realise just how precious and fragile life is.
Kerry suffered a brain haemorrhage at the end of July.
The whole blogging community was in total shock.
Kerry was in a coma for some time and continues to have setbacks. Unable to speak or feed herself, Kerry's husband (Multiple Daddy) is doing an amazing job of raising their 3 gorgeous little ones - and managing to keep up
Kerry's amazing blog
.
Today, Liska (AKA
NewMumOnline
) has asked bloggers to hand their blogs over to Kerry and come together to pray, wish, meditate etc. to send positive thoughts. I'm not a religious person but Kerry is constantly in my thoughts and my heart aches for her and her beautiful family. I wish with all my heart that her rehab goes well and she does not suffer anymore setbacks. We are a month away from Christmas and the best present ever would be that Kerry makes dramatic progress along her healing pathway.
I've said it before and I'll say it again - bloggers are awesome. As a collective we have the power to make a difference. I've seen it countless times across blogs and twitter, we make make waves for positive change, we spread the word about things, we get our voices heard. Today we are using ours to shout out for #Healing4Kerry. We need to believe that we can make a difference.
So please, join with me and the rest of the blogging community as we join together to make that wish a reality for Kerry. Please spare some time on Twitter at 22.00GMT today using the hashtag #Healing4Kerry and send your wishes or prayers her way.
This post was written as part of the #Healing4Kerry Blog Hop